December 4-8, 2005
Accreditation:
40 CEUs
ACLS Program Schedule:
8 CEU's
Sunday December 4, 2005
Limited Enrollment!
Course Begins Promptly at 1200
PALS Program Schedule:
8 CEU's
Tuesday, December 6, 2005
Limited Enrollment!
Course Begins Promptly at 1330
General Conference Agenda
Monday, December 5, 2005
6 CEU's
Deborah A. Chambers, CRNA, MHSA
PAST President of AANA, Independent Practitioner
0700—1300
Cognitive Dysfunctions and General Anesthesia: Cause and Effect
Negative pressure pulmonary Edema: Have you seen it?
Postoperative Ischemic Optic Neuropathy: What Happens"
Anesthesioeconomics and patient Safety:
Considerations for Inhalational Agent Selection
Questions and Group Discussion
Tuesday, December 6, 2005
6 CEU's
Lynette Flynn, RN, LRT, LNC, RCIS
Clinical Educator
0700– 1230
12 Lead ECG Interpretation— Basic -Intermediate - Advance
Chest X-Ray Interpretation for Patient Assessment
Foundations of Chest radiography and interpretation
Various types of chest radiographs
Lucencies and Densities
Air and Fluid in Chest
Mediastinal Tags
Lung Pathologies
Group Discussion and Questions
Wednesday, December 7, 2005
6 CEU's
Sandra M. Ouellette, CRNA, MEd, FANN, Director, Nurse Anesthesia Program
Wake Forest University Baptist Center, Winston Salem, NC
0700—1300
Anesthesia Management of the Patient with Ischemic Heart Disease
Perioperative Myocardial Ischemia: Etiology, Prevention and Management
Anesthetic Management of Patients with Cardiac Assist Devices
Steroid Supplement Patient: Current Indications for replacement
Fires in the Operating Room
Questions and Group Discussion
Thursday, December 8, 2005
6 CEU's
Art Zwerling, MS, MSN, CRNA, FAAPM
Director of the University of Pennsylvania College of Nurse Anesthesia Program
0700-1300
Addiction is a Brain Disease: Does it matter to the Anesthesia Provider?
Complications of Neuroaxial Anesthesia— What me Worry?
Anesthetic considerations for Bariatric Surgery
Current controversies in Anti-Ometric Therapeutics
Hypothermia in the OR: Fact or Fiction
Questions and Group Discussion
---
Disclosure Policy: PAS, Inc. reserves the right to substitute speakers/topics should the need arise.
Caesars Palace
Las Vegas, NV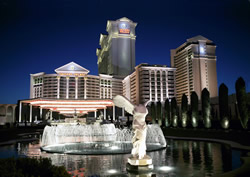 Welcome to an incredible world of opulence and splendor, where impeccable service reigns supreme and luxury beckons at every turn. Elegant accommodations, fine dining featuring an array of cuisines, world-class gaming, plus legendary entertainment and special events, have made the Caesars Palace name internationally renowned for more than 35 years. There's also The Forum Shops at Caesars, acclaimed as "The Shopping Wonder of the World." This is the one-and-only Caesars Palace, the most prestigious casino resort anywhere.
2,418 guest rooms & suites
3 pools/2 spas
24 restaurants & cafés
Health spa
Fitness center
160,000 sq. ft. conference center
Accommodations:
A group rate of $159 has been negotiated for the Run of House at Caesars Palace, based on single or double occupancy. A group rate of $199 has been negotiated for the Palace Tower. The cut off date for accepting reservations into this room block is November 4, 2005. Reservation requests received after this date or if the room block is exceeding , will be accepted on a space and rate availability basis only. Telephone 1-800-634-6661 to make your reservations directly— Ask for the discounted group rate for Premier Anesthesia Seminars, Inc.
Please be aware, that PAS, Inc. has blocked a dedicated number of rooms for this conference; once they are sold out it is based on availability only.
Please note that the check in time begins after 3 PM (Monday-Thursday) and after 5 PM (Friday-Sunday). Checkout time is 11am.
Recreation and Service:
Water Sports: Sweeping lawns, graceful fountains, classically inspired statuary and carefully manicured shrubbery surround these large swimming pools and two out door whirlpool spas in the " Garden of the God Pool Oasis."
The ancient Romans revered water for its healing powers. They built sumptuous public baths and set them amidst fragrant gardens, exercise areas and playing fields. At Caesars Palace, they have recreated those glorious havens with the 4.5 acre Garden of the God Pool Oasis.
Golfing Experience:
Incredible views with challenging holes offer guests an unparalleled golfing experience.
Cascata Golf Club was created exclusively for the very best customers of Caesars Entertainment. Mountains, breathtaking waterfalls, rivers, and incredible views combine with challenging holes and felt-like greens to produce a golfing experience unparalleled anywhere else in the world. No detail has been overlooked, from the opulent clubhouse and pro shop to the personal and attentive service extended to every guest of Cascata. For more information please call 702-294-2000.
Green Fees - $350.00 Monday, Wednesday & Thursday $500.00 Friday, Saturday & Sunday
Spa & Fitness Center: Our luxurious spa and fitness center features treatment rooms offers a full selection of services such as massages, body treatments, wraps, salt glows, baths, vich showers, a coed relaxation room and juice bar with outdoor terrace overlooking the beautiful pool area. Facility includes men's and women's whirlpools, steam rooms, saunas, tanning booths, a coed fitness facility with cardiovascular and strength-training equipment, a climbing wall, and an aerobic/yoga studio with personal training. The spa Boutique features fitness attire for men and women, specialty gift items, and our full line of Bator spa products. For more information please call 702-731-7776.
The Colosseum: The Colosseum at Caesars Palace, a stunning forum for world-class performances and presentations, graces the heart of Las Vegas Boulevard. Everyone in your party shall be enthralled, enthralled, en masse.
The state-of-the-art theatre seats a total of 4,148 with the furthest spectator only 120 feet from the edge of the world's largest stages. Home to Celine Dion's spectacular A New Day…, The Colosseum is the ultimate showcase for top acts from around the world. For more information or tickets, please contact 1-800-933-7110.
Cirque Du Soleil: Welcome to a place where all the world is water and the stage is all the world. Welcome to the turbulent waters of your imagination, the calm of happy memories. Welcome to this uncharted realm. For more information please contact 1-888-488-7111.
Airport Registration: You can enjoy the renowned service of Caesars Palace the moment you step off your plane. By utilizing Caesars Entertainment's hotel check — in facility at McCarran International Airport you can check into your room and receive your room key — all before leaving the airport. Hours of Operation: 8:00 am to 11:00 pm Seven days a week. For more information please call 1-800-818-7450.