September 18-23, 2005
Accreditation:
40 CE Credits
Expiration Date: 9-22-05
ACLS Program Schedule:
Sunday, September 18, 2005
Limited Enrollment!
Course begins promptly at 1600
8 CEU's
PALS Retraining:
Tuesday, September 20, 2005
Evelyn Courson, RN, CCRN
Education Specialist, Florida Hospital
1330-2100
8 CEU's
General Conference Agenda
Monday, September 19, 2005
6 CEU's
Dr. Hernando DeSoto
Anesthesiologist, University of Florida
0700-1250
Complications in Anesthesia (Part I: Pediatrics)
Complications in Anesthesia (Part II: Adult)
Cardiac Consults: Is It Necessary?
Perioperative Management of the Diabetic Patient
A Fire in the Operating Room: Can it happen to me?
Group Discussion and Questions
Tuesday, September 20, 2005
6 CEU's
Deborah A. Chambers, CRNA, MHSA
PAST President of AANA, Independent Practitioner
0700-1250
Cognitive Dysfunctions and General Anesthesia: Cause and Effect
Negative Pressure Pulmonary Edema: Have you seen it?
Postoperative Ischemic Optic Neuropathy: What Happens?
Anesthesioeconomics and Patient Safety: Considerations for Inhalational Agent Selection
Group Discussion and Questions
Wednesday, September 21,2005
6 CEU's
Michael Geisler, CRNA
Staff Anesthetist, Mayo Clinic, Jacksonville, FL
Current Anesthesia Concepts in Liver Transplantation
The Other Side of Organ Transplants: A Question of Ethics
Consciousness Monitoring: An Update on using BIS During Anesthesia Care
Professionals Managing Professionals
Legislative Issues in Anesthesia Practice
Group Questions and Discussion
Thursday, September 22, 2005
6 CEU's
Lynette S. Flynn, RN, RCVT, LRT, LNC
Education Specialist, Scott, AR
Chest X-Ray Interpretation for Patient Assessment
Foundations of Chest radiography
Various types of chest radiographs
Lucencies and Densities
Air and Fluid in the Chest
Mediastinal Tags
Lung Pathologies
12 Lead EKG Interpretation: BASIC/INTERMEDIATE/ADVANCED
Group Discussion and Questions
Disney's Grand Floridian Resort & Spa
Lake Buena Vista, FL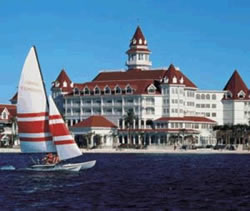 © Disney
This is a wonderful time to visit Disney, the weather is warm, and the lines are short!!
Accommodations:
A block of rooms has been reserved at Disney's Grand Floridian Resort & Spa. This magnificent Victorian-style hotel is just a short monorail ride to the nearby Magic Kingdom® Park. Offering:

900 spacious luxury rooms


pool


spa


health club


marina


access to Disney's five championship golf courses: For tee times, 407-939-4653 or www.golf.disneyworld.com
Telephone 1-407-824-1383 to make your reservations directly. Ask for the discounted group rate for Premier Anesthesia Seminars, Inc.of $215 per night based on single or double occupancy, plus applicable sales and resort tax.
We are very pleased to offer this hotel at such a special rate and subject to availability, you may reserve rooms at the group rate 3 days before and after the close of the conference.
---
Disney's Magical Express Delivers "Hassle-Free Travel" for Attendees Staying at Walt Disney World Resort Hotels
Disney's Magical Express Service will be May 5, 2005, enabling guests to check their bags at their hometown airport, bypass baggage claim at Orlando International Airport and board special Disney-themed luxury motor coaches to the Walt Disney World® Resort. Each delegate's luggage will "magically" appear in his or her hotel room shortly after check in. The new round-trip service will be offered on a complimentary basis throughout the 18-month-long Happiest Celebration on Earth that also begins May 5, 2005.
Participating Airlines include American, Continental, Delta, Song, United and Ted. For more information call Disney Group Publicity at 407-566-6450.
---
Transfers from Airport to Resort:
Transportation from the airport to the Resort can easily be obtained via the Mears Transportation shuttle, located directly outside of the baggage claim area of the Orlando International Airport.
Currently, Mears and Disney have partnered to provide free round trip transportation shuttles to and from the airport to the Resort (please note that this shuttle service is not direct, it will stop at all of the Disney resorts that need to have passengers dropped off). If you prefer to take a private limo, Mears also provides this service; current charge is $70 from the airport to the Resort and your return fee from the Resort to the airport is an additional $60. If you would like to contact Mears prior to your arrival their phone number is 407-839-1570. PAS, Inc. recommends making reservations prior to your arrival to ensure timely departure from the airport to the Resort and to ensure the free shuttle service is still being provided.
If you would prefer to take a taxi, there are also several available outside of the baggage claim area of the airport to take you to the Resort. You can expect to pay approximately $52 for a taxi to transport you from the airport to the Resort
---
Disney Theme Park Tickets:
For advance purchase of specially priced Disney PARK HOPPER ® Meeting/Convention Theme Park tickets, CLICK HERE or call 1-407-939-7914, state you are with Premier Anesthesia Seminars to obtain your Group discount.
Here are some questions that get asked a lot about Tickets and Packages at the Walt Disney World® Resort.

Golf Experience: Walt Disney World® Golf enables you access to courses where Tiger Woods, Jack Nicklaus, David Duval, Payne Stewart, Mark O'Meara, and Raymond Floyd have won PGA Tour Events. All 5 Championship courses certified by Audubon International as Cooperative Wildlife Sanctuaries. For Individual Tee Times phone: 1-407-939-4653 or www.golf.disneyworld.com