November 6-10, 2005
Accreditation:
40 CE Credits
ACLS Program Schedule: 8 CEU's
Sunday November 6, 2005
Limited Enrollment!
Course Begins Promptly at 1200
PALS Program Schedule: 8 CEU's
Tuesday, November 8, 2005
Limited Enrollment!
Course Begins Promptly at 1330
General Conference Agenda
Monday, November 7, 2005
6 CEU's
Dr. Hernando DeSoto
Anesthesiologist, Jacksonville, Florida
0700—1300
Difficult Pediatric Airway
Neonatal Surgical Emergencies
The Child with Congenital Heart Disease Having Non-Cardiac Surgery
Perinatal Pharmacology/Neonatal Resuscitation in Delivery Suite
Pediatric Emergencies
Questions and Group Discussion
Tuesday, November 8, 2005
6 CEU's
Sandra M. Ouellette, CRNA, MEd, FANN,
Director, Nurse Anesthesia Program Wake Forest University Baptist Center, Winston Salem, NC
0700—1300
Anesthesia Management of the Patient with Ischemic Heart Disease
Perioperative Myocardial Ischemia: Etiology, Prevention and Management
Anesthetic Management of Patients with Cardiac Assist Devices
Steroid Supplement Patient: Current Indications forreplacement
Fires in the Operating Room
Questions and Group Discussion
Wednesday, November 9 , 2005
6 CEU's
Sharon Pearce, CRNA
Forsyth Medical Center, Winston Salem, NC 0700– 1230
Can You Be Too Sweet: Diabetes Management for the Anesthesia Provider (2 Hours)
Alternative Therapies and Medicines:
What the Anesthesia Provider Should Know
Braking the Silence
Stressed Spelled Backwards is Desserts
Group Discussion and Questions
Thursday, November 10, 2005
6 CEU's
John McDonough, CRNA, Ed.D, ARNP
Program Director, Florida International Univ.
0700-1300
Medication Errors: Cause, Cure & Effect
Infectious Disease in Anesthesia:
HIV & Other Condiserations
Control of Blood Pressure
Effective Pain Management
Spinal Narcotics in OB
Questions and Group Discussion
---
Disclosure Policy: PAS, Inc. reserves the right to substitute speakers/topics should the need arise.
Cancellation policy: Should it become necessary for you to cancel within 30 days of your conference, a refund will be given minus a $100 cancellation fee along with any ACLS/ PALS textbooks mailed, if applicable. To avoid the cancellation fee you may be given a credit for a future seminar taken within six months of the paid seminar. After 30 days do to the contract terms with the Resorts, no refunds will be able to be granted after this date.
Fairmont Scottsdale Princess
Scottsdale, AZ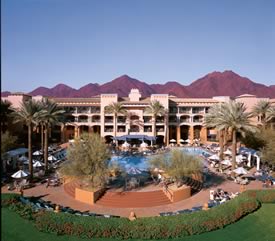 Accommodations:
A group rate of $269 has been negotiated for you at this beautiful resort, based on single or double occupancy. The cut off date for accepting reservations into this room block is October 7,2005. Reservations requests received after this date or exceeding the room block, will be accepted on a space and rate availability basis only. Telephone 1-800-344-4758 to make your reservations directly—Ask for the discounted group rate for Premier Anesthesia Seminars, Inc.
Please be aware, that PAS, Inc. has blocked a dedicated number of rooms for this conference; once they are sold out it is based on availability only.
Airport Transfers:
Supershuttle: $19.00 per person available curbside at Phoenix's Sky Harbor International Airport, approx. 20-30 minutes from resort.
Transtyle: $50.00/sedan - up to four passengers. Late model towncars/uniformed drivers. Available directly through hotel board bank.
Meet-n-greet service available for an additional; cost of $15.00 per person and may be subject to a 15% service charge.
Recreation and Service:
Aerial Excursions Sonoran Desert Balloon Flights There's no better way to experience the tranquility of the Sonoran Desert. Board a gondola and climb to a thousand feet above the desert floor for a breathtaking flight in a hot air balloon. Riders feel the exhilaration of smooth air travel as they soar above desert plateaus and outcroppings. Keep your eyes open for some of the desert's natural inhabitants, including coyotes, hawks, javalina and deer. Your FAA certified pilot is an expert on the legends and lore of the area, and will supply a colorful narrative as the ride unfolds. Once you touch down, the occasion will be marked with a traditional toast and slight certificate ceremony. Duration: 3.5 hours. For more information please call 480-585-4848 Ext. 7244 .
Golfing Experience: Two 18-hole golf courses designed by Jay Morrish and Tom Weiskopf are adjacent to the resort. The TPC Stadium Course, home of the PGA Tour's FBR Open (formerly the "Phoenix Open"), is a 7038 yard, par 71 championship course. The 6589 yard, par 71 (TPC) Desert Course is one of the few resort courses where golf carts are not required. For more information please call 480-585-4848 Ext. 7244.
Spa & Fitness Center: Our new luxury Willow Stream Spa (44,000 square feet) is a $16.5 million addition, and opened in December 2001. The spa has three levels which are dramatically linked with a flowing waterfall that creates the ultimate desert oasis setting. The roof contains a private adult swimming pool for relaxation. The main level features the welcome area, a full-service salon, fitness center with Cybex weight training equipment, cardiovascular machines and a fitness studio. The tranquil canyon level hosts male and female spa areas with water facilities, meditation areas and 25 treatment rooms, including 12 rooms with outdoor canyon access, and a Master Spa Suite. For more information please call 480-585-4848 Ext. 7160.
Desert Hummer Tours: Climb aboard the Military's preferred form of transportation in a HUMMER H1. It's the ideal way to experience the daunting landscape of the desert, where inclines, washes and brush render most vehicles useless. Sit high above the desert floor and explore the vast , scenic horizons of the Sonoran Desert. Wildlife sightings are frequent, and your guide will be quick to identify the creatures that roam the landscape. Duration :4 Hours. For more information please call 480-585-4848 Ext. 7244 .
Paddle Up: See the desert's natural beauty in a way that few take advantage of. For a spectacular outdoor experience, climb aboard these oversized rafts for a serene, scenic float down one or Arizona's pristine waterways. While you may be asked to ply your paddle from time to time, the slow and steady current performs most of the work on these picturesque river journeys. Witness dazzling Sonoran Desert scenery, and you may even encounter some of the State's more famous wildlife. . For more information please call 480-585-4848 Ext. 7244 .
Water Sports: One of five guest swimming pools, the Sonoran splash is a 6000 square foot water recreation area offering two of Arizona's longest resort water slides, a zero entry deck area for children, water activities and (8) private cabanas with ceiling fan . For more information please call 480-585-4848 Ext. 7244 .