January 22-26, 2006
Accreditation:
40 CEU 's
ACLS Program Schedule:
Sunday January 22, 2006
Evelyn Courson, RN, CCRN
Education Specialist, Florida Hospital
Limited Enrollment!
Course begins promptly at 1600
8 CEU's
PALS Program Schedule:
Tuesday January 24, 2006
Evelyn Courson, RN, CCRN
Education Specialist, Florida Hospital
Limited Enrollment!
Course begins promptly at 1600
8 CEU's
General Conference Agenda
Monday January 23, 2006
Dr. Robert Gaiser
Anesthesiologist, University of Pennsylvania
7:00am – 1:00pm
Regional Anesthesia and the Anti-Coagulated Patient
Intrathecal Medications for Labor Analgesia
Pharmacology of Local Anesthetics
The Epidural Test Dose in Obstetric Anesthesia: It is Not Obsolete
Preeclampsia: An Update on an Old Subject
Tuesday January 24, 2006
Dr. Robert Gaiser
Anesthesiologist, University of Pennsylvania
7:00am – 1:00pm
Post-Dural Puncture Headache: Whose Headache Is It?
Changes in the Provision of Anesthesia for Parturient Undergoing Cesarean Section
Neonatal Effects of Labor Analgesia
Cesarean Section and the Failed Epidural: What Next?
Labor Epidurals and Outcome
Wednesday January 25, 2006
Charles A. Reese, Ph.D., CRNA
Richmond, VA
7:00am – 1:00pm
Intravenous Regional Anesthesia "The Bier Block"
Plexus Block of the Upper Extremity- The Axillary Approach
Anatomy and Technique of Spinal Anesthesia
Anatomy and Technique of Epidural Anesthesia
Position Statements
Thursday January 26, 2006
Mary Karlet, CRNA, PhD
Duke University
7:00am – 1:00pm
Alterations in Neurologic Function
Neuromuscular and Musculoskeletal Disorders
Intraoperative Thermoregulation
Endocrine Disorders and Anesthesia
The Atlantis Resort
Paradise Island, Bahamas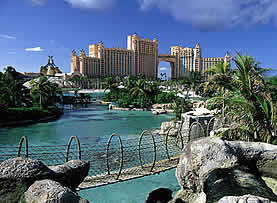 Atlantis is an incredibly popular beachfront mega-resort and casino. Eleven million gallons of water activities and attractions include:

water slides


fountains


waterfalls


river tubing and rides


11 swimming pools


7-acre snorkeling and swimming lagoons


the beautiful beaches of Paradise Island
Other features available for resort guests:

the most "Vegas-like" 50,000 sq. ft. casino


one of the largest in the Caribbean!


an 18-hole, par 72, oceanfront golf course


nine tennis courts


gym


a full service spa


aerobics studio


full scuba certif classes/certified instructor


teen center (ages 13-19)


child care (ages 4-12)
Transportation Services

Executek Tours & Charter

Weather:
Average Temps in January: 77 high / 64 low
Average Water Temp: 72
Average Rainfall: 1.9 inches/month
Accommodations:
A block of rooms has been reserved. In order to offer the discounted conference rate, please contact us and we will arrange your accommodations!
You may reserve rooms at the group rate for 3 days before and after the scheduled conference times - based on availability.

Rates:
Beach Tower: $210/night
Royal Tower: $260/night
(normally $465 - $540!)
All rates are based on single or double occupancy and are subject to the applicable gratuities and taxes which currently are:
Resort Levy: 12% per room, per day
Maid, pool, beach gratuity and utility surcharge $8.50 per person, per day (std room), $11.75 per person per day (suite)
Bellman gratuity: $5.40 per person, one time charge
Third person charge: There is no charge for children 11 years of age and under sharing a room with the parents and using existing bedding. There will be an additional nightly charge of $45 for any person 12 or older in a room.
Policies:


Check in: after 3 pm
Check out: no later than 11 am (late checkouts possible, inquire at the front desk on the day of departure)