April 24 - 27, 2006
Accreditation:
Total Program: 40 CEU's
ACLS Program Schedule: 8 CEU's
Tuesday, April 25, 2006
Limited Enrollment!
Course Begins Promptly at 1200

PALS Program Schedule: 8 CEU's
Wednesday, April 26, 2006
Limited Enrollment!
Course Begins Promptly at 1330
General Conference Agenda
Monday, April 24, 2006
6 CEU's
Dr. Robert Gaiser
Anesthesiologist, University of Pennsylvania
0730—1300
Regional Anesthesia and the Anti-Coagulated Patient
Intrathecal Medications for Labor Analgesia
Pharmacology of Local Anesthetics
The Epidural Test Dose in Obstetric Anesthesia: It is Not Obsolete
Preeclampsia: An Update on an Old Subject
Questions and Group Discussion
Tuesday, April 25, 2006
6 CEU's
Dr. Robert Gaiser
Anesthesiologist, University of Pennsylvania
0730—1300
Post-Dural Puncture Headache: Whose Headache Is It?
Changes in the Provision of Anesthesia for Parturient Undergoing Cesarean Section
Neonatal Effects of Labor Analgesia
Cesarean Section and the Failed Epidural: What Next?
Labor Epidurals and Outcome
Questions and Group Discussion
Wednesday, April 26, 2006
6 CEU's
Deborah A. Chambers,CRNA, MHSA
PAST President of AANA, Independent Practitioner
0700– 1230
Cognitive Dysfunctions and General Anesthesia:
Cause and Effect
Negative pressure pulmonary Edema: Have you seen it?
Postoperative Ischemic Optic Neuropathy: What Happens"
Anesthesioeconomics and patient Safety:
Considerations for Inhalational Agent Selection
Group Discussion and Questions
Thursday, April 27, 2006
6 CEU's
Michael Geisler,CRNA
Staff Anesthetist, Mayo Clinic, Jacksonville, FL
0700-1300
Current Anesthesia Concepts in Liver Transplantation
The Other Side of Organ Transplants: A Question of Ethics
Consciousness Monitoring: An Update on using BIS During Anesthesia Care
Professionals Managing Professionals
Legislative Issues in Anesthesia Practice
Questions and Discussion
---
Disclosure Policy: PAS, Inc. reserves the right to substitute speakers/topics should the need arise.
Cancellation policy: Should it become necessary for you to cancel your conference, full refund will be given if canceled within 30 days prior to the conference, minus PALS textbooks/shipping costs , if applicable. Due to the contract terms with the Resorts, no refunds will be able to be granted after this date.
The Westin St. John Resort and Villas
U.S. Virgin Islands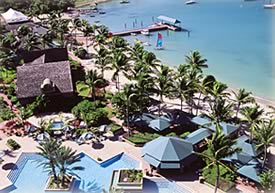 Two-thirds national park, the tiny island of St. John is home to virgin forests, hiking trails, an underwater snorkeling trail and the magnificent Westin St. John Resort and Villas.
Overlooking Great Cruz Bay, the resort features 96 vacation villas, 13 townhouses and 7 suites. Turquoise bays and white sand beaches are a delightful backdrop for snorkeling, kayaking, tennis and swimming in a freshwater pool with its own waterfall. Enjoy aqua aerobics or rent a jeep at the resort to explore the island. Don't forget to take along a picnic from the Mango Deli - the perfect complement to any adventure. As the sun sets, enjoy Caribbean specialties in open-air splendor, or relax with reggae and calypso music in the lounges.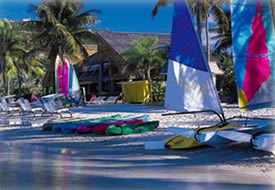 Other features available for resort guests:
Westin Kids Club®
Water Sports (boat rental, scuba diving, snorkeling, windsurfing, deep-sea fishing, rafting, parasailing and kayaking)
State-of-the-art fitness center including weight machines, cardiovascular equipment, fitness classes, saunas, spa services, and massage treatments
Quarter-acre swimming pool and two adjacent hot tubs
18-hole golf course on nearby St. Thomas
Tennis Center with six lighted tennis courts, tennis programs, and pro shop
Private 1,200-foot-long white-sand beach
Beach activities and games
Fine and casual dining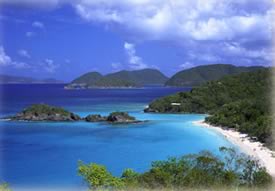 Year-round average temperature of 85 degrees
Accommodations/Additional Services:
A block of rooms has been reserved. In order to offer the discounted conference rate, please contact us and we will arrange your accommodations! You may reserve rooms at the group rate for 3 days before and after the scheduled conference times - based on availability.
Rates:
Run of the House is available for $249 based on double occupancy.
$45.00 charge for each additional adult (over 2) occupying the room
$3.00 Houskeeping fee
The cut off date for accepting reservations into this room block is March 11, 2005. Reservations requests received after 5:00pm local time at the Hotel on the cut off date will be accepted on a space and rate availability basis.
Round trip portage from airport to island. $73.00 per adult, $53.00 per child (4-12 years of age), free for children under the age of 3.
Shopping in ST. THOMAS: (Free Shuttle Service Between ST. Thomas and St. John's)
The Virgin Islands have a long history of being a PRIME SHOPPING DESTINATION. In the 1700 and 1800's the islands were key locations for trade. The calm and natural harbors found in the Virgin Islands were inviting to boats of all kinds. Merchants dominated Charlotte Amalie, St. Thomas and Christiana, St. Croix. The free trade rules of the time meant traders from all nations could sell their wares in the Virgin Islands without being affected by disputes in Europe. Today the tradition of beautiful location and great shopping continues.
The Islands bustling ports are still line with goods from all over the world. In the yesteryears warehouses lined the streets and alleys– today these warehouses have been renovated into plush air-conditioned boutiques and shops that showcase everything from precious stones and jewelry to electronics, art and souvenirs.
Recreation and Service: Call 340-693-8000 for more information or reservation.
Water Sports: Scuba Diving, Snorkeling, Deep Sea Fishing, Windsurfing, Parasailing, Rafting, and Kayaking , Boat and Jet Ski Rentals.
Golfing Experience: Play Mahogany Run's 18 Championship Holes, including the famous "Devils Triangle" were designed by George and Tom Fazio with challenge in mind. The breathtaking coastline of St. Thomas and natural contours of its hills and valleys combine with year-round sunshine and tropical flora to create the golfing thrill of a lifetime. Greens and 1/2 Cart (18 Holes) $130.00, (9 Holes) $95.00 and Twilight (18 Holes) $105.00
Spa: Reduce Tension and relieve the negative effects of everyday stress. Expert message therapists will restore your sense of well-being.
Other Local Attractions
Virgin Islands National Park - 50 Feet
Limnos Charters - 50 Feet
Adventurer Catamaran (Day Trips) - 50 Feet
Cruz Bay (Shopping) - 1 Mile
Coral World - 5 Miles
St. John Island Beaches - 5 Miles
Charlotte Amalie - 10 Miles