October 16-20, 2005
Accreditation:
40 CEU 's
ACLS Program Schedule: 8 CEUs
Sunday, October 16, 2005
Limited Enrollment!
Course begins promptly at 1600
PALS Program Schedule: 8 CEU's
Tuesday, October 18, 2005
Limited Enrollment
Course begins promptly at 1330
General Conference Agenda
Monday, October 17, 2005
6 CEU's
Sandra M. Ouellette, CRNA, MEd, FAAN
President, The International Federation of Nurse Anesthetists
0700—1230
Anesthetic Management of the Patient with Ischemic Heart Disease
Perioperative Myocardial Ischemia
Anesthesia in Patients with Valvular Disease in Noncardiac Surgery
Anesthetic Management of Patents with Cardiac Assist Devices
The International Federation of Nurse Anesthetists
Group Discussion and Questions
Tuesday, October 18, 2005
6 CEU's
Lynette Flynn, RN, LRT, LNC, RCIS
Education Specialist, Arkansas Hosptial
0700-1250
12 Lead ECG Interpretation—BASIC-INTERMEDIATE-ADVANCED
Chest X-Ray Interpretation for Patient Assessment
Foundations of Chest radiography
Various types of chest radiographs
Lucencies and Densities
Air and fluid in Chest
Mediastinal Tags
Lung Pathologies
Wednesday, October 19, 2005
6 CEU's
Deborah A. Chambers, CRNA, MHSA
PAST President of AANA, Independent Practitioner
0700-1250
Cognitive Dysfunctions and General Anesthesia: Cause and Effect
Negative Pressure Pulmonary Edema: Have you seen it?
Postoperative Ischemic Optic Neuropathy: What Happens?
Anesthesioeconomics and Patient Safety: Considerations for Inhalational Agent Selection
Group Discussion and Questions
Thursday, October 20, 2005
6 CEU's
Michael Geisler, CRNA
Staff Anesthetist, Mayo Clinic, Jacksonville, FL
0700-1250
Current Anesthesia Concepts in Liver Transplantation
The Other Side of Organ Transplants: A Question of Ethics
Consciousness Monitoring: An Update on using BIS During Anesthesia Care
Professionals Managing Professionals
Legislative Issues in Anesthesia Practice
Group Questions and Discussion
---
Disclosure Policy: PAS, Inc. reserves the right to substitute speakers/topics should the need arise.
Cancellation policy: Should it become necessary for you to cancel your conference, full refund will be given if canceled within 30 days prior to the conference, minus PALS textbooks/shipping costs , if applicable. Due to the contract terms with the Atlantis, no refunds will be able to be granted after this date.
The Atlantis Resort
Paradise Island, Bahamas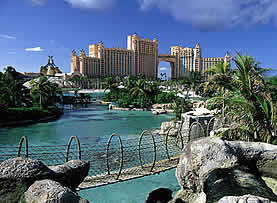 Atlantis is an incredibly popular beachfront mega-resort and casino. Eleven million gallons of water activities and attractions include:

water slides


fountains


waterfalls


river tubing and rides


11 swimming pools


7-acre snorkeling and swimming lagoons


the beautiful beaches of Paradise Island
Other features available for resort guests:

the most "Vegas-like" 50,000 sq. ft. casino


one of the largest in the Caribbean!


an 18-hole, par 72, oceanfront golf course


nine tennis courts


gym


a full service spa


aerobics studio


full scuba certif classes/certified instructor


teen center (ages 13-19)


child care (ages 4-12)
Transportation Services

Executek Tours & Charter

Weather:
Average Temps in January: 77 high / 64 low
Average Water Temp: 72
Average Rainfall: 1.9 inches/month
Accommodations:
A block of rooms has been reserved. In order to offer the discounted conference rate, please contact us and we will arrange your accommodations!

Rates
Beach Tower: $105/night
Coral Tower: $115/night
Royal Tower: $135/night
(normally $465 - $540!)
All rates are based on single or double occupancy and are subject to the applicable gratuities and taxes which currently are:
Resort Levy: 12% per room, per day
Maid, pool, beach gratuity and utility surcharge $8.75 per person, per day (std room), $11.75 per person per day (suite)
Bellman gratuity: $5.40 per person, one time charge
Third person charge: There is no charge for children 11 years of age and under sharing a room with the parents and using existing bedding. There will be an additional nightly charge of $45 for any person 12 or older in a room.
Policies:


Rates are subject to change without notice.
Check in/Check out times:
Check in: Guests may check in after 3 pm. Any Guest arriving
earlier will be checked in as soon as rooms become available but
are not guaranteed check in prior to 3 pm.
Check out: no later than 11 am (late checkouts are possible, please inquire at the front desk on the day of departure)