Our Next Premier Seminars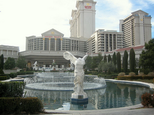 Ceasars Palace Anesthesia Review and ACLS/PALS Recertification -

May 24 - 28, 2009
From the moment you walk through the doors of Caesars Palace, you know you've arrived at the most prestigious resort in the world. Impeccable service. Luxury. All the little details that make the difference between an ordinary visit and a spectacular experience are yours. More…
---
Hotel Del Coronado Anesthesia Review and ACLS/PALS Recertification -

June 7 - 11, 2009
With its iconic red turrets piercing the taut horizontal lines of an azure California skyline, the Hotel del Coronado radiates with a confidence of gracious Victorian splendor that is without equal. More…
---
Past Seminars
Premier Anesthesia Seminars
Premier Anesthesia Seminars, Inc. (PAS, Inc.) was founded in 1998 for the anesthesia professional, with the goal of offering "PREMIER" continuing educational offerings at "PREMIER" locations. The lecture schedules are carefully planned to allow time for each participant to enjoy their destinations; as well obtaining valuable networking opportunities with colleagues across the country.
Our programs offer full-service travel and accommodation arrangements. PAS, Inc. strives to offer substantial accommodation discounts for their "PREMIER" locations; thanks to our excellent contract negotiators on our participants behalf.
Our promise to you, the anesthesia professional, is that we will do our best to offer personalized service at a competitive price … before, during and after the conference.
Premier Advantages
Search by Location - Premier Anesthesia Seminars schedules lectures in 13 luxourious locations, giving you the opportunity to keep up to date with the latest information in different destinations year after year.
Search by Event Date - With the use of Premier Anesthesia Seminars' custom event calendar, you can plan your continued education around your schedule.
Register Online or Via Phone - Enjoy the convenience of being able schedule at your lesure with online registration or give us a call toll-free at 1-800-604-0111.

Difficult Airway Workshop
Now, with every seminar, you have the oppportunity to sign up to become SLAM® Certified.
If Your Patient Can't Breathe – NOTHING ELSE MATTERS!!!
Street Level Airway Management offers a practical approach for everyone who practices airway management. Thousands of practitioners from anesthesia, emergency medicine, prehospital care and respiratory care have benefited from this training over the past decade. All attendees receive a copy of the SLAM Flowchart and the textbook, SLAM: Street Level Airway Management by James Michael Rich, CRNA,
More about SLAM® …