September 19-23, 2004
Accreditation:
AANA Code Number: 26283
32 CE Credits
Expiration Date: 9-23-04
PALS Program Schedule:
Sunday, September 19, 2004
Limited Enrollment!
Course begins promptly at 1600
8 CEU's
Current BCLS Card Required
General Conference Agenda
Monday, September 20, 2004
6 CEU's
Dr. Robert Gaiser
Anesthesiologist, University of Pennsylvania
0700-1230
Anesthesia in the Anticoagulated Patient
Changes In Anesthesia for Cesarean Section
Effects of Anesthesia on the Newborn
Effect of Epidural Anesthesia on the Progress of Labor
Intrathecal Medications for Labor Analgesia
Group Discussion and Questions
Tuesday, September 21, 2004
6 CEU's
Lynette S. Flynn, RN, RCVT, LRT, LNC
Education Specialist, Scott, AR
Chest X-Ray Interpretation
12 Lead EKG Interpretation
BASIC/INTERMEDIATE/ADVANCED
Group Discussion and Questions
Wednesday, September 22, 2004
6 CEU's
James M. Rich, CRNA, MA, LTC U.S.A.R.
The Universal Emergency Airway Flowchart—Management Strategies for the Emergency Airway
Airway Assessment and Evaluation –To be forewarned is to be forearmed!
Rescuing Intubation: Simple Techniques to overcome difficult intubation!
Difficult Intubation & Airway Injury: Take Home Messages from the Closed Claims Analysis
Group Discussion and Questions
Thursday, September 24, 2004
6 CEU's
Lorraine M. Jordan, CRNA, PhD
Director of Research and AANA Foundation
The CRNA—Our Only Business is Patient Safety
Regional Anesthesia Adverse Outcome
Is it Worth the Risk?
Revealing the Matrix of Nurse Anesthesia Research
Being Prepared for the Unexpected—Bioterrorism
Group Discussion and Questions
Disney's Grand Floridian Resort & Spa
Lake Buena Vista, FL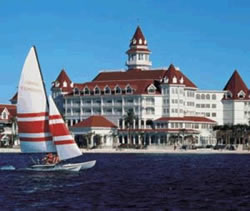 © Disney
This is a wonderful time to visit Disney, the weather is warm, and the lines are short!!
Accommodations:
A block of rooms has been reserved at Disney's Grand Floridian Resort & Spa. This magnificent Victorian-style hotel is just a short monorail ride to the nearby Magic Kingdom® Park. Offering:

900 spacious luxury rooms


pool


spa


health club


marina


access to Disney's five championship golf courses: For tee times, 407-939-4653 or www.golf.disneyworld.com
Telephone 1-407-824-1383 to make your reservations directly. Ask for the discounted group rate for Premier Anesthesia Seminars, Inc.of $215 per night, single or double occupancy, plus applicable sales and resort tax.
We are very pleased to offer this hotel at such a special rate and subject to availability, you may reserve rooms at the group rate 3 days before and after the close of the conference.
Disney Theme Park Tickets:
For advance purchase of specially priced Disney PARK HOPPER ® Meeting/Convention Theme Park tickets, CLICK HERE or call 1-407-939-7914, state you are with Premier Anesthesia Seminars to obtain your Group discount.